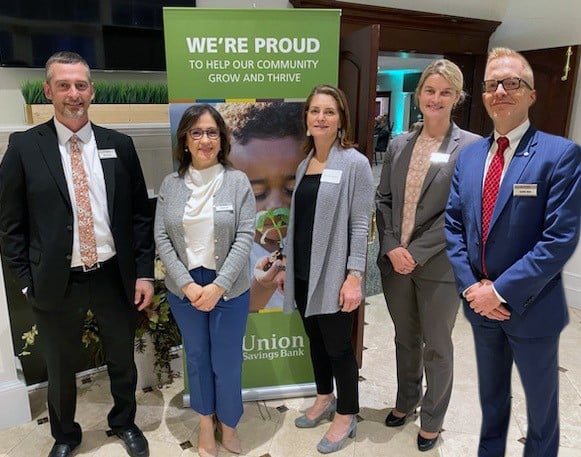 Danbury, CONN. (MAY  17, 2023) – Union Savings Bank CEO Cynthia C. Merkle and Chair of the Board Lucie Voves are pleased to announce the election of five new corporators at Union Savings Bank's recent annual meeting.
"As a mutual bank that is dedicated to the community, the role of the corporator is vitally important to Union Savings Bank," said Merkle. "They help us form a valuable link between the Bank and the individuals and businesses we serve. We are delighted these five business leaders have joined USB as new corporators."
The Bank welcomes the following individuals:
Geoffry Hook is the chief information officer for Nuvance Health, an integrated health system offering convenient, accessible, and affordable care to community members through its hospitals, medical practices and care centers located throughout Western Connecticut and New York's Hudson Valley. Hook earned an MBA from Webster University, Webster Groves, MO, and a Bachelor of Business Arts in Information Technology from Andrews University, Berrien Springs, MI. He is a member of the College of Healthcare Information Management Executives (CHIME). Hook also received his Project Management Professional (PMP) certificate from the Project Management Institute, Newtown Square, PA. He resides in Newtown, CT.
Jennifer Ingram is the head of marketing planning and customer acquisition at Charter Communications, a leading broadband connectivity company located in Stamford, CT. Her experience in strategic marketing and new business development spans 30 years.  Ingram, who also serves on the USB Board of Trustees, earned an MBA from Columbia Business School, New York City, and a Bachelor of Science degree in Economics from State University of New York (SUNY) at Binghamton. She is a member of Charter Communications' "Spectrum Women" Business Resource Group through which she actively mentors, coaches, and supports the development of women in the organization. Ingram is active in her community, volunteering for the PTA and other groups. She resides in Fairfield, CT.
Matthias E. Lukens III is the founder and owner of 322 Marketing, a digital marketing agency located in New Milford, CT.  Lukens earned a Bachelor of Arts degree in Education from the University of Hartford and has more than 20 years of experience in the marketing and advertising industry. He is a member of the New Milford Chamber of Commerce, serves on the Board of the Pratt Nature Center and volunteers as a LaCross coach in his local community. Lukens resides in New Milford, CT.
Stephanie Nickse is an attorney and owner of S.B Nickse Law Offices, LLC, Danbury, CT. The firm represents individuals and businesses of all sizes and specializes in pre-litigation, litigation, and arbitration concerning a variety of legal issues. Nickse also provides pro bono services to Statewide Legal Services, a legal aid advice and referral center as well as the Call4Law Program and Connecticut Veterans Legal Services. She earned a Juris Doctor degree from Quinnipiac University School of Law and a Bachelor of Arts degree in Sociology from Bucknell University. Nickse is heavily involved in the community, currently serving as president of the Westport Young Women's League as well as a legislative committee member for the Danbury Chamber of Commerce. She resides in Westport, CT.
Ereida Spaho is a certified public accountant at Landwehr & Spaho CPAs, located in Brookfield, CT. Spaho has more than 20 years of experience in tax accounting and offers tax planning and consulting services for clients of various sizes across many industries. Spaho earned an MBA in Finance from the University of New Haven and a Bachelor of Science degree in Accounting from Teikyo Post University. She is a Board member for the YMCA of Western, CT, where she serves on the finance committee. Spaho is also a member of the American Institute of Certified Public Accountants (AICPA) as well as a member of the Connecticut Society of CPAs (CTCPA), serving on both the federal and state taxation committees.
"We are pleased to add these five successful business leaders as Union Savings Bank corporators," said Voves. "They each bring valuable experience and a unique perspective to the Bank and are respected and active in their communities. They will be excellent representatives for the Bank."
###
About Union Savings Bank
Established in 1866 and headquartered in Danbury, Conn., Union Savings Bank is a $3.0 billion mutual bank dedicated to being the bank of choice. As a full-service financial institution, Union Savings Bank provides banking, mortgage, investment, trust and insurance products throughout western Connecticut with 24 offices in Bethel, Brookfield, Canton, Danbury, Goshen, Kent, Litchfield, Marble Dale, Monroe, New Fairfield, New Milford, Newtown, Ridgefield, Roxbury, Southbury, Torrington and Washington Depot. The bank provides financial services to individuals, businesses, not-for-profit organizations, and government entities through its commercial, residential and consumer lending, corporate services, retail banking and wealth management divisions. Please visit www.unionsavings.com for more information; the bank can also be found on LinkedIn. Member FDIC. Equal Housing Lender.
Contact:
Michele Bonvicini
Union Savings Bank
203.830.6045
mbonvicini@unionsavings.com