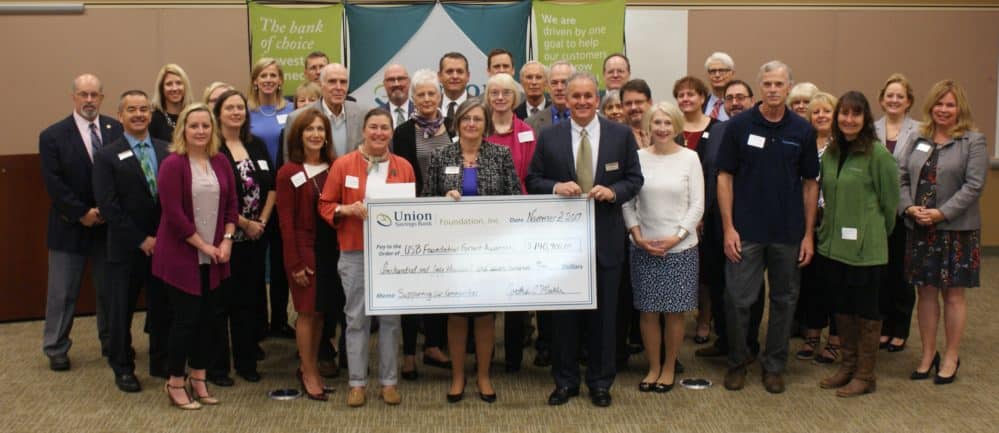 Consistent with Union Savings Bank's goal of providing support to non-profit organizations in CT that serve and promote overall education to our neighbors, the USB Foundation recently distributed $140,700.
The Foundation grants' recipients were comprised of community partners that support educational programs including youth development, art and nature education, and the enrichment of lives of those with disabilities.
"Education and giving back to the community we live and work in are core principals at Union Savings Bank," said Cynthia C. Merkle, USB's President and CEO, who also serves as President of the USB Foundation. "We are truly committed to making our community a better place, and have made it our mission to fund non-profit organizations in CT concentrating on developing educational and other learning opportunities."
Over the last six years, Union Savings Bank and the USB Foundation have contributed nearly $6 million to community and non-profit organizations in CT, with bank employees having volunteered more than 100,000 hours to various local causes as well. Established in 1998, the Union Savings Bank Foundation Grants Program has served as just one component in Union Savings Bank's comprehensive efforts to give back to the local communities it serves.
Recipients of the 2017 USB Foundation Grants Program include:
Children's Center of New Milford
Outdoor Classroom Project
Community Culinary School of NW CT
Educational Training Program
Connecticut Radio Information System
Knowledge, Literacy and Independence Program
Danbury Grassroots Academy
Tutoring & Enrichment Program
Family & Children's Aid
Enhancing Extend Program for At-Risk Children
Junior Achievement of Western Connecticut
Financial Literacy Program
Literacy Volunteers on the Green
Literacy Program
McCall Center for Behavioral Health
Girls Circle Support Program
Newtown Youth and Family Services
Autism Spectrum Disorder Program
Northwestern Connecticut YMCA
Early Learning Program
Pratt Nature Center
Educational Outreach Program
Robotics and Beyond
STEM and Design Education Program
TBICO
Better Skills, Better Jobs, Better Lives Program
The Arc of the Farmington Valley
Picture Exchange Communication Program