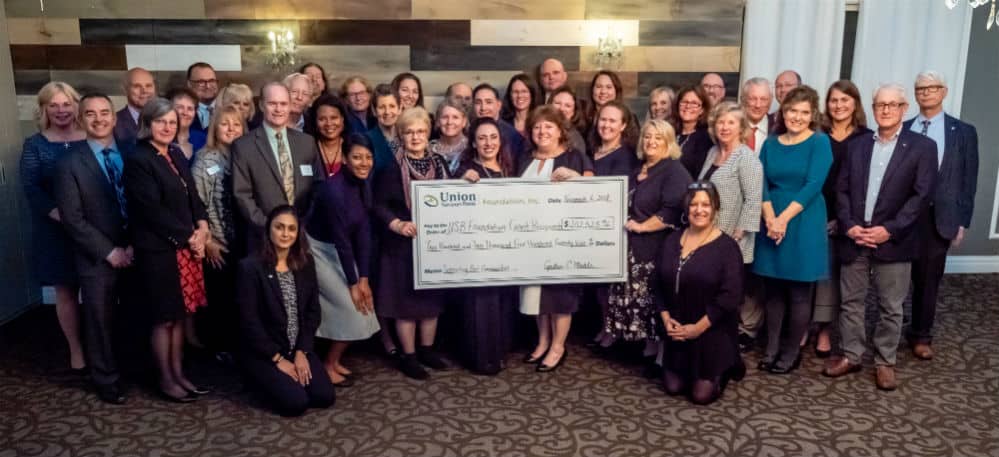 Danbury (November 27, 2018) – As part of Union Savings Bank's commitment to making meaningful and positive contributions to individuals, families, businesses and the communities it serves, the USB Foundation recently distributed nearly $203,000 to 18 non-profit organizations.
This range of recipients includes community partners that provide health care to low-income families, offer job training opportunities and support educational programs, a cause that Union Savings Bank is especially passionate about.
"As Connecticut's local bank, we are proud to support the charities and organizations that work to make our community so great," said Union Savings Bank President and CEO, Cynthia C. Merkle. "We are thrilled to have such a variety in this year's recipients, including so many programs focused on enriching the education of our neighbors."
The Union Savings Bank Foundation Grant Program was established in 1998 to provide steady contributions to non-profit organizations in the local area. The program is just one part of the bank's comprehensive efforts to give back to the community it serves. Through the bank and its foundation over $6 million has been awarded to community organizations for the last seven years.
Recipients of the 2018 USB Foundation Grant include:
AmeriCares Free Clinics
Boehringer Ingelheim AmeriCares Free Clinic of Danbury
Ann's Place, Inc.
Speaker and Workshop Series
Arts Escape
Art as Therapy Program
Brookfield Craft Center, Inc.
Youth Craft Education Program
Catholic Charities of Danbury
Education Financial Stability Outreach Program
Community Action Agency of Western Connecticut
Job Skills Training Program
Connecticut Junior Republic Association, Inc. (CJR)
Learning to Work with Resistant Youth: New Strategies for Fostering Motivation and Resilience
Danbury Youth Services, Inc.
Teaching Reaching Gaining Excellence Together (TARGET)
EdAdvance
After School/Summer Enrichment Program for Special Needs Adolescents and Young Adults
Families Network of Western, CT, Inc.
Training the Trainers Program
KidsPlay Children's Museum Inc.
Mission in Motion – KidsPlay Outreach Program
LVA School, Inc.
Training the Trainers Program
Oliver Wolcott Library
One Book, One Litchfield Program
Regional YMCA of Western Connecticut
Students Can Run and Move (SCRAM) Program
Susan B. Anthony Project, Inc.
The Community Education Program
The Ridgefield Theater Barn
The Ridgefield Theater Barn Kids Program
The Tiny Miracles Foundation
Continuing Education for Mentors to Enhance the Emotional Support of Families Program
Village Center for the Arts
Unexpected Artist