Danbury, CONN. (October 29, 2020) – Lucie H. Voves, Chair, Union Savings Bank (USB) Board of Trustees, today announced the addition of two new board members.
Susan Certoma, Co-Founder, Point2Point, and Bonnie Kintzer, President, Chief Executive Officer & Board Member, Trusted Media Brands, have been elected to the USB Board of Trustees.
"As Union Savings Bank continues to evolve to meet the changing needs of our customers, we feel it is important to add diverse expertise to our board," said Voves. "With their respective backgrounds in technology, financial services and marketing, Susan and Bonnie bring fresh perspectives to the table that will be critical in how we shape the future of our organization."
Certoma established Point2Point after an extensive career in Financial Services. Located in Weston, CT, the company provides strategic advisory services to business and technology executives. Prior to Point2Point, she was President of Enterprise Engineering Inc, a privately held Fintech firm that serves large financial institutions and wealth managers. She also has held senior positions with Broadridge, Wachovia Bank, and Goldman Sachs, as well as other top tier financial firms.
Certoma is a member of the Board of Southwest Power Pool (Little Rock, AR), and chairs the Finance Committee. Susan serves on the Board of the Society for Information Management (Fairfield/Westchester Chapter), where she is a former Board President and Chair. She is a member of Extraordinary Women on Boards and 100 Women in Finance. Certoma earned a Bachelor of Science degree in Management/Economics, and a Master of Business Administration in Finance, from St. John's University. She has completed advanced studies at the Wharton Executive Education (Securities Industry Institute), UNC Chapel Hill Executive Leadership Program, and Yale University Special Studies. Certoma lives in Weston, CT.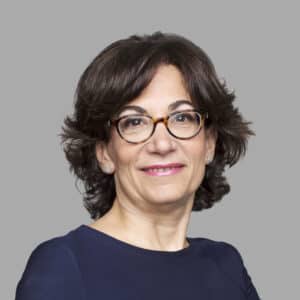 For the past six years, Kintzer has led Trusted Media Brands, New York, NY, which is private equity owned and formerly known as The Readers' Digest Association. A media and direct marketing company, it reaches over 62 million consumers with multiple platforms such as Taste of Home, Reader's Digest, and Family Handyman. Prior to Trusted Media Brands, she served as Chief Executive Officer of Women's Marketing Inc. Kintzer has held leadership positions with Kintzer, Bachar & Associates, and Reader's Digest Association, among other companies.
She is on the board of Trusted Media Brands, Reader's Digest Foundation, where she is Chair, and the Children's Learning Center of Fairfield County. Kintzer is also on the board of Thryv, a Saas business listed on NASDAQ where she is Chair of the Compensation Committee.  Kintzer earned a Bachelor of Arts degree in government and international relations from Clark University, and a Master of Business Administration from Harvard Business School. She lives in Stamford, CT.
For more information, please visit unionsavings.com and connect with the bank on LinkedIn.
About Union Savings Bank
Established in 1866 and headquartered in Danbury, Conn., Union Savings Bank is a $2.7 billion mutual bank dedicated to being the bank of choice. As a full-service financial institution, Union Savings Bank provides banking, mortgage, investment, trust and insurance products throughout western Connecticut with 25 offices in Bethel, Brookfield, Canton, Danbury, Goshen, Kent, Litchfield, Marble Dale, Monroe, New Fairfield, New Milford, Newtown, Ridgefield, Roxbury, Southbury, Torrington and Washington Depot. The bank provides financial services to individuals, businesses, not-for-profit organizations and government entities through its commercial, residential and consumer lending, corporate services, retail banking and wealth management divisions. Please visit www.unionsavings.com for more information. Member FDIC. Equal Housing Lender.
Community Relations Contact:
Michele Bonvicini
Union Savings Bank
203.830.6045
mbonvicini@unionsavings.com