Union Savings Bank ($2.3 billion, Danbury, Connecticut) has a "Win $10,000 in Online Advertising and SEO for Your Business" campaign that's helping the bank develop its relationship banking initiative.
Cynthia Merkle, President and CEO, says that the campaign stemmed from the bank's desire to transform its advertising from traditional channels to digital.
"Our strategy with this offer is to drive leads and awareness by targeting small- to medium-sized business in our geographic area—including both existing and prospective customers—and to provide a business with a great opportunity to maximize their digital presence."
The campaign kicked off on April 4th and ends on June 30th. Any business in Connecticut can enter the sweepstakes to win $10,000 in online advertising and SEO.
Entry Form for "Win $10,000" Campaign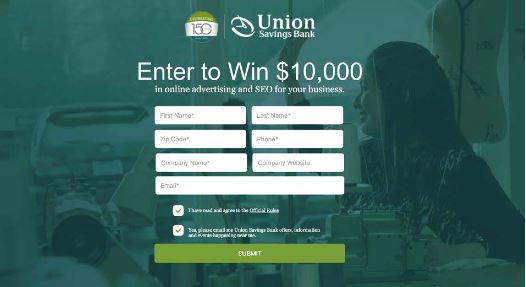 Source: Union Savings Bank (Danbury, CT)
For example, the grand prize winner will be awarded with a digital marketing services package that includes:
•Search Engine Marketing 101 Training: With a one hour phone consultation
•Get listed in Google Local
•Claim a listing in Yelp
•Optimized Facebook Business Page
•Optimized LinkedIn company page
•Getting set up on Google Local, Yelp, Facebook, and LinkedIn
•SEO Audit and top 25 key words for the business
•Creation of a Google AdWords account, along with an initial campaign creation
•A $5,000 three-month paid media campaign, along with a summary report Merkle notes that the digital marketing services will be provided by one of the bank's own clients. "It all worked out, where the client was enthusiastic about being part of this promotion, and can use their expertise to help the winning local business expand their digital presence."
As a supplement to the campaign, the bank introduced a long-form Business Blog that touches on a variety of business-based topics—including human resources, growth, strategic planning, and investing, says Merkle. "The idea is to drive sweepstakes entries to the blog through a series of automated e-mails after the business enters the sweepstakes."
In fact, three automated e-mails are issued to the business to direct them to the blog, and also to a series of videos that feature some of the bank's clients. The videos demonstrate how local companies have grown and how they've tapped into Union Savings Bank's products and services. "The videos show, especially to prospective customers, the benefits of being bank customers."
Merkle says the bank is taking an integrated and disciplined marketing approach for the campaign. "In addition to inbound marketing—and digital and online advertising—we enlisted the help of branch managers to follow up on individual leads, as well as our business bankers who are on the road."
All digital marketing includes geo-targeting and analytics to promote to business customers within the bank's footprint.
The campaign is also leveraged to assist the bank's Solutions Teams with awareness, leads, and outbound calls. "Two years ago, we opened a beautiful new branch in an area outside of our market footprint. Remember the saying from the movie, Field of Dreams, If you build it, they will come? In this instance, it didn't work as well."
Because the traffic was so light, Merkle and her team joined managers and officers from various bank departments to work together in the new branch.
"Part of the multi-disciplined team included a trust officer, small business banker, mortgage originator, cash management officer, and commercial lender. The concept is to deliver a more developed solution for our customer base in a collaborative fashion. For instance, if our small business banker was headed out on a call, he might ask the cash management officer to join him to cross promote how our cash management products and services could help the business."
Merkle says the team flourished and she saw not only a new client base develop, but also an increase in branch and ATM traffic. "We refer to the team as our local heroes. As a result, we used the same approach with two other outlying area locations and saw similar results."
The same team is taking the Win $10,000 in Online Advertising and SEO for Your Business sweepstakes offer to clients, and Merkle says the results are fantastic.
"Before they started promoting it to customers, we did some training on SEO and digital advertising, and also created a script to help them with their delivery."
As the campaign comes to a close, she says that the sweepstakes entries have been significant, and videos have been viewed over 1.2 million times. "We didn't have any specific lead and awareness goals because we weren't sure
what to expect, considering this was our first fully integrated digital campaign designed to drive leads. But I can say we are tracking the results closely and this is something we would consider doing again in the future."
Source: Cynthia Merkle, President and CEO, Union Savings Bank, Danbury, CT; phone (203)830-6045; e-mail (Contact: Jeff Perlman) jperlman@brandwarepr.com.
Courtesy of Siefer Report (Siefer Consultants)