Protecting customer data as well as your own network is an around-the-clock job, which is why cyber security continues to be a top concern for business owners year after year. Yet there are still many myths about safeguarding your network that threaten to compromise your business' cyber security.
In a special white paper for our Business Blog readers, we've pulled together 10 of the biggest misconceptions about small business cyber security that can stand between you and a secure network. Plus, discover ways that you and your team can bust these myths to keep your data – and your customers' data – safe and secure.
From uncovering which businesses cyber criminals really want to target (hint: yours is one of them) to learning how to detect the early signs of a network breach, our cyber security white paper can help equip you with the knowledge you need to keep your data safe.
Click the PDF below to read and download the white paper, and feel free to share it with your colleagues, customers and friends.
10 Myths about Small Business Cyber Security: Learn how to protect your business [Free Download]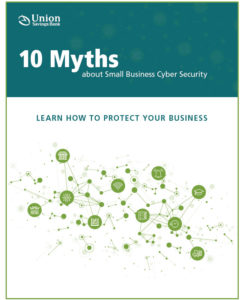 For more ways to protect and grow your business, visit the USB Business Blog.