The Bank now has women in its top two leadership positions.
Danbury, CONN. (September 29, 2020) – Union Savings Bank (USB) announced that Lucie H. Voves, CEO & Founder, Church Hill Classics, has been elected Chair of the Board of Trustees, becoming the first woman to hold that position in the bank's 154 year history. She joins USB President & CEO Cynthia C. Merkle to lead the organization, making the bank the only financial institution in Fairfield County with women in the top two management positions and among a small percentage of companies in the United States to be led by women.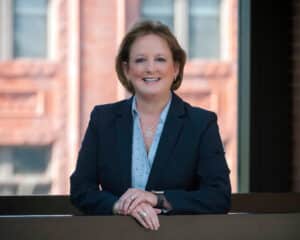 Voves succeeds Jeff Levine, Owner of Levine Auto & Truck Parts, who retired as Chair, but remains on the Board. "As an entrepreneur and major employer in Fairfield County, Lucie brings a 360-degree perspective to the board chair position," said Levine. "She recognizes the needs of businesses from start-up to well-established firms, while understanding the consumer mindset and their financial challenges. And having served on the Union Savings board, Lucie understands the bank. This was an easy choice."
Voves established Church Hill Classics in 1991 as a home-based business offering limited-edition artwork of Northeast college campuses. Today, Church Hill Classics is a national, market-leading diploma frame company that manufactures licensed frames for over 2,500 colleges, universities, professional associations, corporate clients, and the U.S. Military. The company employs over 100 people and operates from a 47,000 square-foot facility in Monroe, CT. Church Hill Classics has made the Inc. Magazine 5000 Fastest-Growing Companies, Ten-Time Inc. 5000 Honor Roll and been named the CONNSTEP Made in CT Program Manufacturer of the Month. Prior to founding her own company, Voves was a brand manager at Procter & Gamble and worked at its subsidiary, Richardson-Vicks.
"I'm quite honored and humbled to be elected to this position with such a well-respected organization," said Voves. "Union Savings Bank is a critical community asset that provides a wide range of financial products and services, supports vital organizations helping the less fortunate, and continues to innovate and lead. I'm looking forward to being an active part of the bank's future."
Voves was the inaugural recipient of the Macricostas Family Entrepreneur of the Year Award, presented by the Ancell School of Business at Western Connecticut State University in recognition of outstanding business and community leadership. She was the first winner of the Vistage Leadership Legacy Award, recognized for exemplifying that organization's core values of trust, caring, challenge and growth as a leader. Vistage is the world's largest CEO coaching and peer advisory organization for small and midsize businesses; the organization has been in existence for over 60 years. A member of the National Advisory Board for Enterprising Women magazine, Voves is also an Advisory Board Member for the Women's Business Council of the Danbury Chamber of Commerce.
Voves earned a Bachelor of Arts degree in Art History and English, magna cum laude, from Dartmouth College, and is a graduate of the Entrepreneurial Masters' Program at the Massachusetts Institute of Technology Sloan School of Business, as well as the Harvard Kennedy Executive Education Program on Leadership for the 21 st Century. In addition, she is a graduate of The Committee of 200 (C200) Protégé Program, which consists of an intense, two-year curriculum focused on training and development, which pairs promising entrepreneurs worldwide with high-profile female mentors. C200 is a not-for-profit, invitation-only membership organization composed of the world's most successful female entrepreneurs and corporate leaders. The organization's primary mission is to foster, celebrate and advance women's leadership in business.
Voves resides in Brookfield, CT.
"I'm very thankful to Jeff Levine for his leadership and the guidance he's provided to me since I became President; we've worked well together and he's been instrumental in enabling the bank to move forward," said Merkle. "I've been a big fan of Lucie for a number of years and look forward to working closely with her to make sure that Union Savings Bank remains strong and forward thinking in order to meet the evolving financial needs of our customers, and to provide support to all members of our diverse community."
For more information, please visit unionsavings.com and connect with the bank on LinkedIn.
About Union Savings Bank
Established in 1866 and headquartered in Danbury, Conn., Union Savings Bank is a $2.2 billion mutual bank dedicated to being the bank of choice. As a full-service financial institution, Union Savings Bank provides banking, mortgage, investment, trust and insurance products throughout western Connecticut with 25 offices in Bethel, Brookfield, Canton, Danbury, Goshen, Kent, Litchfield, Marble Dale, Monroe, New Fairfield, New Milford, Newtown, Ridgefield, Roxbury, Southbury, Torrington and Washington Depot. The bank provides financial services to individuals, businesses, not-for-profit organizations, and government entities through its commercial, residential and consumer lending, corporate services, retail banking and wealth management divisions. Please visit www.unionsavings.com for more information. Member FDIC. Equal Housing Lender.
Community Relations Contact:
Michele Bonvicini
Union Savings Bank
203.830.6045
mbonvicini@unionsavings.com