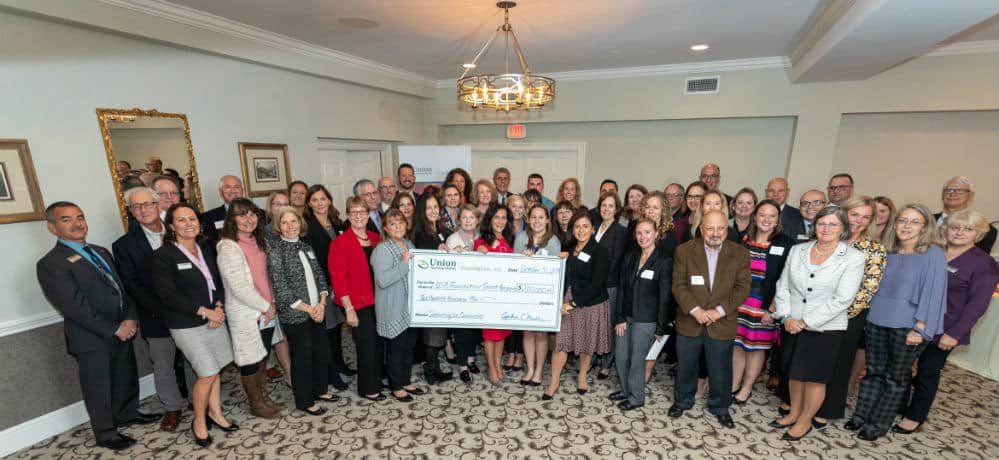 Danbury, CONN. (November 13, 2019) – In keeping with Union Savings Bank's commitment to making meaningful and positive contributions to individuals, families, businesses and the communities it serves, the USB Foundation recently distributed $200,000 to 20 non-profit organizations.
The range of organizations impacted by these awards include community partners that offer job training opportunities, provide health and nutrition guidance, and cultivate the success of our youth all while utilizing educational programs to share their mission, a focus that Union Savings Bank and the Foundation are especially passionate about.
"We are so honored to be able to make such a lasting impact in our community in so many different ways through this year's grant recipients," said Union Savings Bank President and CEO, Cynthia C. Merkle. "Union Savings Bank and the Foundation's unwavering dedication to giving back has allowed us the opportunity to provide contributions to countless non-profit organizations in the local area."
Since the Foundation's inception, over $3 million have been awarded to organizations in our community which include this year's recipients.
Ability Beyond
Youth Career Development
After School Arts Program, Inc.
The Metamorphosis Project at Forbes School
Association of Religious Communities, Inc.
Kids in Danbury Schools ("K.I.D.S")
Big Brothers Big Sisters of Southwestern CT
One to One Mentoring
Community Culinary School of Northwest CT
Employment Skills Training/Job Placement
Danbury Grassroots Academy
Danbury Grassroots Academy Program
Danbury Music Centre, Inc.
Summer Festival Programs
Danbury Police Activities League
Summer & Fun Experience Healthy Choices
Danbury Schools and Business Collaborative
DSABC School-Based Mentoring Programs
Hillside Food Outreach, Inc.
Hands-On Nutrition Education
Junior Achievement of Greater Fairfield County
Financial Literacy Night and Danbury School Partnership
Kennedy Center
Strive and Thrive Life Skills Inclusive Teens Educational Programs
Literacy Volunteers on the Green
Programming Support for Adult Learners
Newtown Youth and Family Service
REC CLUB – for Youth with Autism Spectrum Disorders
Northwestern Connecticut YMCA
Early Learning Program
Pratt Nature Center
Educational Outreach Program
Ridgefield Symphony Orchestra
Education & Outreach Initiative
Ridgefield Visiting Nurse Association
Mortality and Life Wishes
The Ridgefield Playhouse for Movies and the Performing Arts, Inc.
Arts for Everyone and Arts in Education
Women's Center of Greater Danbury
Community Education, Training and Outreach