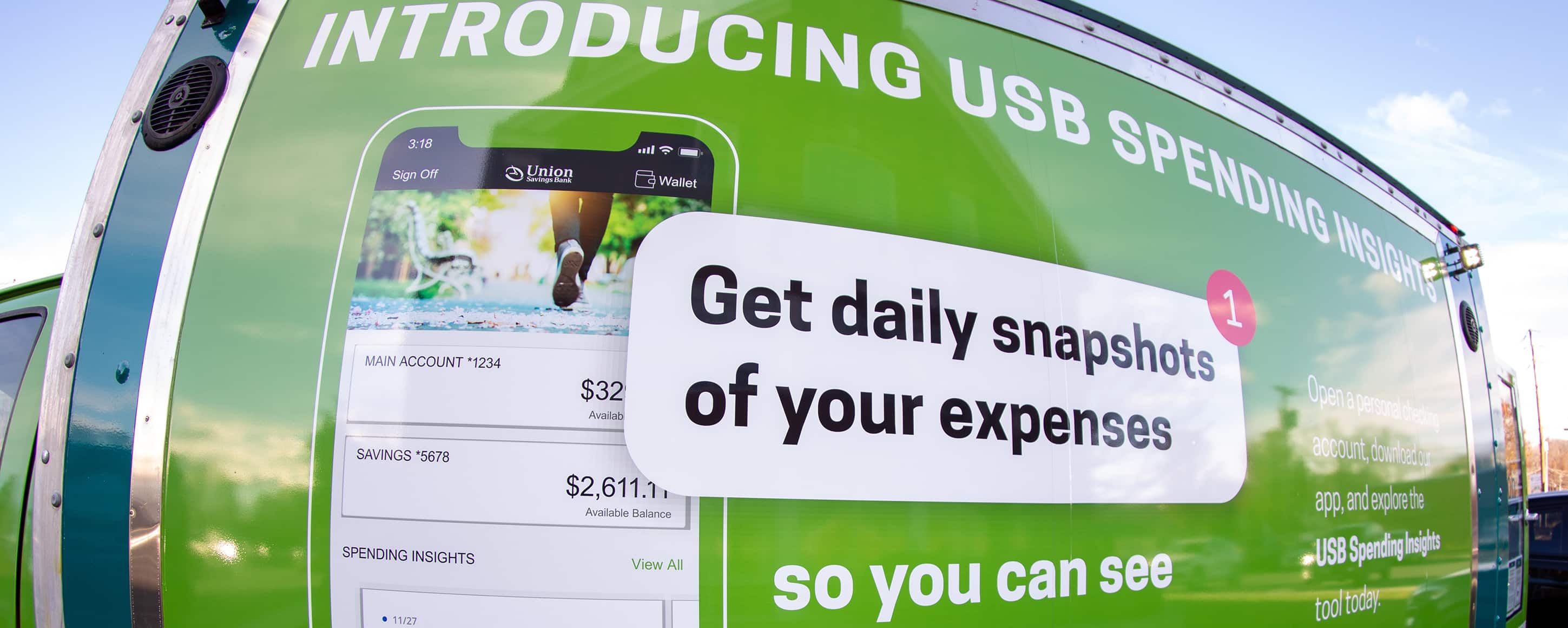 Chris Barlow, Vice President Digital Channels, Union Savings Bank
We often go through our daily routines without taking much notice of our everyday spending habits. But if you've ever gotten to the end of the month wondering 'where did all the money go?', the new Spending Insights tool on the USB Mobile App has all the answers. Spending Insights lets you monitor your expenses, set budgets, manage subscriptions, and more. Powered by artificial intelligence technology, USB Spending Insights securely analyzes transactions, learning your spending patterns. By getting the most from USB Spending Insights, you can become a smarter spender, better saver, and stay on track with your long-term goals.
See How Small Details Create the Big Picture
USB Spending Insights delivers information via Insights Stories screens. The Cash Flow Tracker story screen shows you the status of your cash outflows and inflows throughout the month. Compare your activity to the previous six months and use the information to see trends in your saving and spending. You can decide whether you're moving closer to your goals or need to apply the spending brakes.
The Budget Milestones story screen enables you to set up specific limits for everyday necessities like groceries and gas to additional expenses like dining, entertainment, shopping, travel, and even health and fitness. Category-by-category insights can help you reevaluate your choices for need-to-haves vs. nice-to-haves. You'll see how those daily 3 p.m. lattes are quickly adding up, or whether you'd rather save for a birthday splurge or reward yourself with a new fitness class and an outfit to wear to it.
Delve even deeper into your spending habits with the Spending Tracker story screen that details individual transactions not just by category but by individual merchant. You can get personalized tips on where you can spend and when you should save, and notice exactly where your spending is at a tipping point. For example, you'll see how spending a little less at a specialty market can help your money go much farther at a value grocery store.
To find hidden and recurring expenses, you may have all but forgotten about, check the Subscription Tracker story screen. That's where Spending Insights can uncover inadvertent surprises that can really impact your budget. The tool will reveal all your streaming news and entertainment services, subscriptions, and gaming platforms. These days, it's all too common to subscribe to a new platform to watch that must-see series, only to forget to cancel after the special trial period. Spending Insights can help you clean house by eliminating "subscription creep," putting money back in your pocket.
USB Spending Insights can learn your recurring deposit patterns, so you can get notifications when your paycheck is deposited or when there is unusual activity, like unexpected deposits or over-limit withdrawals. With so much personalized information, using USB Spending Insights is like having a personal financial manager in the palm of your hand.
Smarter Spending Made Simple
All the features of USB Spending Insights are free and automatic for users of the USB Mobile App who have a USB personal checking account. Initially populated with data from the prior month, Spending Insights will eventually deliver data based on activities from six months prior.
As with all USB mobile app activities, USB Spending Insights data is protected by the latest security software and will never be shared with outside third-party institutions or merchants.
USB Spending Insights is designed to be intuitive and easy to use and customize, but if you have questions or want to learn more, visit the USB Spending Insights section on our website. You'll find links to our Digital Tutor, as well as answers to any questions you may have about the app.
Whether you're an experienced saver and investor or are just starting on your financial journey, get in the habit of checking USB Spending Insights to track your progress and get closer to reaching your goals. Smarter spending is right in the palm of your hands.
For more information or to enroll in the USB Mobile App, visit your local branch, or call 866.872.1866.
Browse our most popular topics