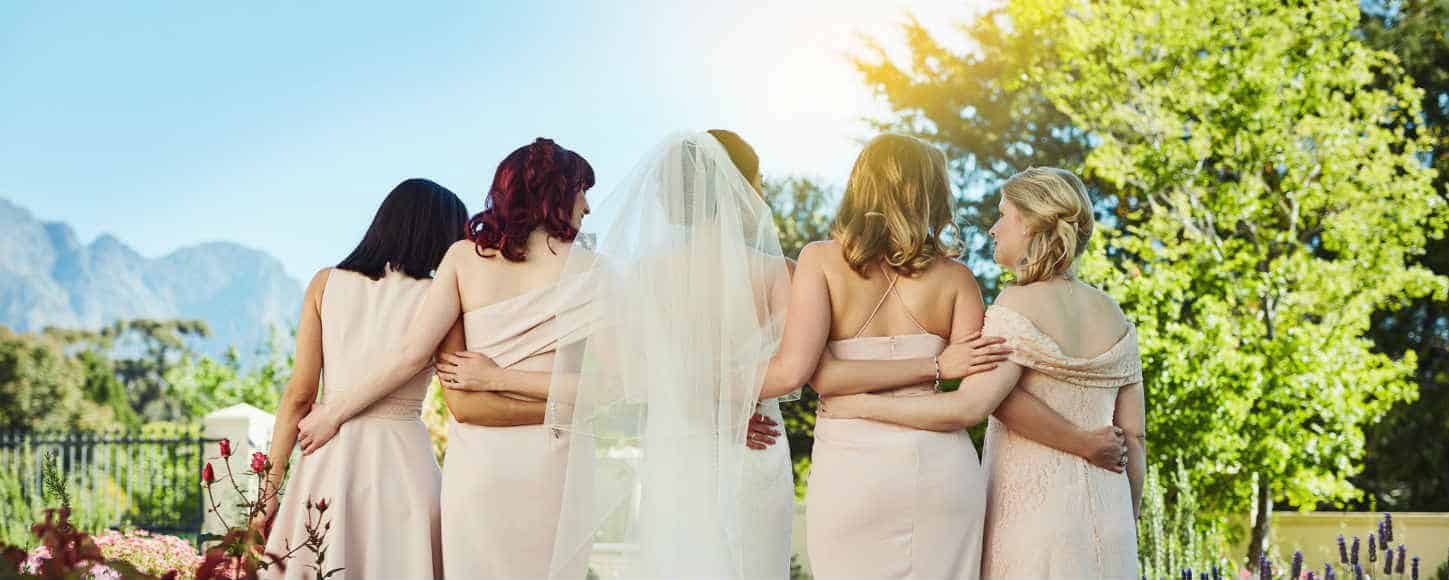 If you feel like your Instagram feed has been bombarded with a disproportionate number of engagement announcements lately, you're not imagining things. According to WeddingWire.com, more than a third of engagements happen between Thanksgiving and Valentine's Day every year. Once you've celebrated with your newly betrothed friends or family members, you may begin to wonder how you are going to budget for the weddings in your near future. Before you start frantically comparing who you've known the longest, consider these tips for incorporating upcoming weddings into your annual budget.
If you don't want to reduce, then reuse and recycle
A big part of stretching your budget to accommodate multiple weddings is getting multiple uses out of the same clothes and accessories. If you've attended formal events in the past, you may already have a few options sitting in your closet. Classic wedding attire for men can be worn at virtually any time of year, though you may want to avoid a winter wool suit in summer. Similarly, women's wedding guest dresses and suits can often span across multiple seasons when paired with different shoes and accessories. The right accessory can even dress up an outfit you may otherwise wear to work, so get creative and recycle the items you already own.
Know what to buy and when
Sizes and styles change, so if you're not happy with the items you already own, or if you haven't had occasions to buy formal attire in the past, you may need to work clothing into your wedding guest budget. If you have some time before your friends head to the altar, there are several annual sales to keep in mind.
The first round of sales on men's suits is wrapping up now, but another window of opportunity typically crops up in July as seasonal styles and fabrics are swapped out. As long as you don't need to sit through an outdoor wedding in freezing temperatures, a classic style light or mid-weight suit can go a long way.
If you're hunting down women's wedding guest dresses and formal attire, try hitting the racks between now and May as prom season unfolds. Many stores discount their formal wear to draw in shoppers of all ages, and come late spring, these styles will likely be priced at their lowest. Simple styles than can be dressed up or down are the best way to get more bang for your buck.
Set your wedding travel budget ahead of time
Even if the weddings you plan to attend in the next year or so don't have all the details ironed out yet, you can still begin to budget for getting there. If you know that a friend is thinking about getting hitched somewhere exotic, you'll want to start making a destination wedding budget and savings plan. Costs will include getting to the airport, the flight, transportation to the accommodations, and then everything in reverse to get back home, not to mention time off work. Estimating these costs on the higher end can help you avoid falling short as you begin to save.
Think these upcoming weddings will be closer to home? You may still need accommodations and transportation, so don't forget to save toward these costs over the coming months. Do you share mutual friends with the happy couple? You may want to reach out about splitting the hotel or rental bill if it makes sense for your travel companions.
Visit the registry as soon as you can
Giving a gift is another possible cost of attending a wedding. In certain cases, such as some destination weddings, a gift is not always expected. If you're unsure, contact a member of the wedding party for more details.
If you do plan to give a gift while sticking to your budget, make sure to visit the wedding registry as soon as possible when you are more likely to find smaller inexpensive wedding gifts before they are picked over. Since all the items listed are things the couple actually want, you can rest assured that they will like it. You may even consider some creative wedding gifts like handcrafted housewares, items to prepare the couple for their travel plans, or a piece of art. Giving a monetary gift is always an option as well, but be sure to include exact amounts in your budget ahead of time.
Remember that invitations are not binding
It may be disappointing to think about, but sometimes attending a wedding just doesn't make sense for your budget or your schedule. If going to your friend's wedding could throw you off your savings plan entirely, or if the time off could put you in hot water at work, you'll want to think twice before sending in that RSVP. That goes for some of the periphery events like bridal showers or bachelor parties. These celebrations often require giving another gift in addition to paying for your accommodations, and often the bride's or groom's, too.
Watching your friends and family members exchange vows is a special experience. It can seem overwhelming when these events all crop up at once, but there are ways to make them work. Careful planning ahead of time can have you busting moves on the dance floor without busting your budget.
For more budgeting and savings tips, visit our FutureTrack Blog.
Browse our most popular topics